PEOPLE FOR THE BODY IS A NON PROFIT ORGANIZATION
DEDICATED TO GETTING JESSE "THE BODY" VENTURA ELECTED TO
THE OFFICE OF PRESIDENT IN 2012. WE AT PEOPLE FOR THE BODY
BELIEVE THAT JESSE IS EXACTLY WHAT THIS COUNTRY NEEDS IN
THIS TIME OF NEED. HE IS THAT GOOD. BECAUSE THE BODY
WON'T BACK DOWN TO THE BUREAUCRATS IN WASHINGTON OR
THE NANCY BOYS ON WALL STREET. HE SPEAKS HIS MIND AND
HIS MIND IS TELLING HIM AND US THAT SOMETHING IS WRONG
IN AMERICA!!!
SO PLEASE READ THE REST OF THE SITE TO GET AN IDEA OF JESSE "THE PREZ" VENTURA'S OPINIONS AND IDEAS, AND EVEN SOME FUN FACTS TO GET AN INSIDE LOOK AT THE MAN HIMSELF!!
"I speak my mind. If it offends some people, well, there's not much I can do about that" -- The Body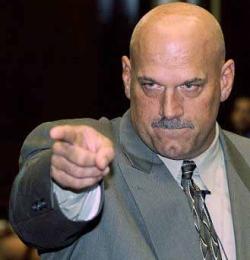 THE BODY'S OPINIONS...
...on the military
"I'm against the draft. I believe we should have a professional military; it might be smaller, but it would be more effective."
"A Navy SEAL will defy death at least twice a week."
"The current use of the National Guard is wrong... These are men who did not sign up to go occupy foreign nations."
"Even while I was a Navy SEAL, I participated in the 1970s peace movement. I marched at peace rallies. I admit it wasn't so much because of my great love of peace as it was because of my great love of female companionship."
...on government
"While I was mayor, I learned that government is a system of checks and balances"
"As the cliché says, 'I don't want Democrats in the boardroom and I don't want Republicans in the bedroom.'"
"The Constitution guarantees us our rights to life, liberty, and the pursuit of happiness. That's all. It doesn't guarantee our rights to charity.
The government is not a parent."
"I'm a working man with commonsense ideas and goals. I describe myself politically as fiscally conservative and socially moderate-to-liberal."
"I decided to run for governor because I got mad.... I want to make government more directly accountable to the people."
"I'd like to work on having every fourth year become a year in which no laws are made"
"I believe I was destined to become mayor of Brooklyn Park."
...on gay marriage
"Could someone please tell me how this will affect me? Come on, this is Harvard, folks. I came all the way out here to learn this."
...on religion
"Organized religion is a sham and a crutch for weak-minded people who need strength in numbers. It tells people to go out and stick their noses in other people's business. I live by the golden rule: Treat others as you'd want them to treat you. The religious right wants to tell people how to live."
"I'd like to clarify my comments about religious people being weak-minded. I didn't mean all religious people."
"I don't support abortion. I could never participate in one."
"I believe in the separation of church and state... We all have our own religious beliefs. There are people out there who are atheists, who don't believe at all... They are all citizens of Minnesota and I have to respect that."
"If I could be reincarnated as a fabric, I would come back as a 38 double-D bra."
...on crime
"People are always shocked when they ask me what I plan to do about crime as governor and my answer comes back as 'Nothing!'"
"Industrial hemp is a very useful plant. [...] And government has no business telling us what we can and can't use for pain relief."
"I'm all for gun control, I just define it a little differently. If you can put 2 rounds into the same hole from 25 meters, that's gun control!"
"How come life in prison doesn't mean life? Until it does, we're not ready to do away with the death penalty."
...on freedom
"We call our country home of the brave and land of the free, but it's not. We give a false portrayal of freedom. We're not free — if we were, we'd allow people their freedom. Prohibiting something doesn't make it go away. Prostitution is criminal, and bad things happen because it's run illegally by dirt-bags who are criminals. If it's legal, then the girls could have health checks, unions, benefits, anything any other worker gets, and it would be far better."
...on welfare
"It's taking money from someone who is working to give to someone who's not!"
...on education
"A ratio of no more than 17 students per teacher ensures more 1-on-1 contact, better classroom discipline, you name it."
"Some felt I'm not academically qualified, and they're right."
"Students often approached me about state-paid tuition while I was out campaigning. After I explained to them that if the state pays their tuition now, they will pay higher taxes to pay other people's tuition for the rest of their lives, most of them ended up agreeing with me."

FUN FACTS
Jesse's favorite movie is Caddyshack!

Jesse's favorite magazine subscription is Playboy!